According to Plato in "The Myth of Er" the first gift is a person's spirit is allowed to choose the setting/conditions of one's incarnation that might best allow him to be able to learn/discern between good and evil. The Egyptians believed though one's soul may go on after death his Ka, daimon, or essence never dissipates but stays here on Earth and is assimilated into the collective unconscious in some parts known as the genii. In ancient Rome it was believed that the genii resides within the ancestral bloodlines which is why each clan had a coat of arms showing the unique features of 'the family genius'. As a magician/student of the A.'.A.'. I'm finally finishing up my old Probationer homework here as referred to in Cornelia No. 6 so off I go on my ancestral voyage for you to yawn at like I did to
C93
until you're ready for your own journey or whatever you will...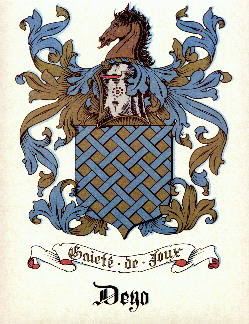 The story of this remarkable and durable clan goes back to the tenth century when a chieftain held a fortress in the Jura Mountains, and continues to the 1600's when descendants were forced to flee across Europe to avoid martyrdom for Calvinist beliefs. The succeeding flight to America brought new adventures, a unique form of government, treaties with the Indians, and at last refuge in a tiny settlement on the banks of the Wallkill River in the shadow of the Shawangunks.
The Huguenot Cross
One of the oldest streets in America with several of the original houses of twelve seventeenth century Huguenot refugees from religious persecution in Europe was designated a National Historic Landmark in 1964. The Historic Landmark is located in the middle Hudson valley in the town of New Paltz, New York. Two of the twelve Huguenot refugees were Christian Deyo and his son Pierre. Pierre built the first stone House on Huguenot Street in 1692 and it stood for 200 years in the rural Flemish Style of all the Patentee abodes until it was remodeled into a Victorian mansion in 1894.